---- PLEASE TAKE NOTE ALL REGISTRATION ARE DONE ONLINE AND NOT BY PHONE ---

Due to summer vacations all registrations for August 14/22/29 exams must be sent before July 23rd. It is also important that you take into account there will be a delay in receiving results. For the August 14th exam it will only be corrected after the 23rd of August. Thank you.


TEF Canada / TEFaQ - Language Proficiency Testing
The TEF Canada and TEFaQ are French language proficiency tests recognized by the Ministère de l'Immigration de la Diversité et de l'Inclusion (MIDI) as a measure of proficiency for its Certificat de Sélection du Québec (CSQ) immigration selection process, as well as Citizenship and Immigration Canada (CIC) for its citizenship selection process.
In general, the requirements of the Minister of Immigration are:
Canadian Citizenship: listening and speaking during the same session of TEF Canada.
Federal Canadian immigration programs: reading comprehension, listening, writing and speaking during the same session of TEF Canada.
Immigration Quebec: at the discretion of the TEFAQ candidate.
----  VEUILLEZ PRENDRE NOTE QUE TOUTES LES INSCRIPTIONS SE FONT EN LIGNE.

En raison du congé estival, veuillez prendre note que la date limite d'inscription aux sessions du mois d'août (14/22/29) est le 23 juillet 2021. Il est également très important de prendre en considération que les délais de la correction de ces trois sessions ne reprendront qu'à partir du 23 août 2021.

Les délais pour recevoir votre attestation seront aussi affectés. Merci de votre compréhension.


TEF Canada / TEFAQ - Test d'évaluation de français
Le TEF CANADA / TEFAQ est un test de compétence en français reconnu par le Ministère de l'Immigration de la Francisation et de l'Intégration (MIFI) pour l'obtention du CSQ (Certificat de sélection du Québec) et par le CIC (Citoyenneté et Immigration Canada) dans le processus de demande de citoyenneté.
En général, les exigences du Ministère de l'Immigration sont :
Citoyenneté canadienne : compréhension orale et expression orale lors d'une même session TEF Canada.
Immigration au Canada fédéral : compréhension écrite, compréhension orale, expression écrite et expression orale lors d'une même session TEF Canada.
Immigration au Québec : à la discrétion du candidat TEFAQ.
Kuper Academy - Library Resources
Kuper Academy believes in the importance of reading, not only to sharpen the mind, but to inspire creativity and imagination. We understand that by providing students with books, magazines, periodicals, and other academic referencing materials, we are helping them learn how to learn and we are giving them the tools that they need to dream big.
Both the Kuper Academy elementary library and the high school library have many resources to offer Kuper students and our librarians work diligently on a daily basis to help students nurture the desire to become lifelong learners. With a total of over 6,000 holdings entered to date in the Mandarin Library Automation system as well as a librarian in each library working to improve the collection and services each day, there is much to discover!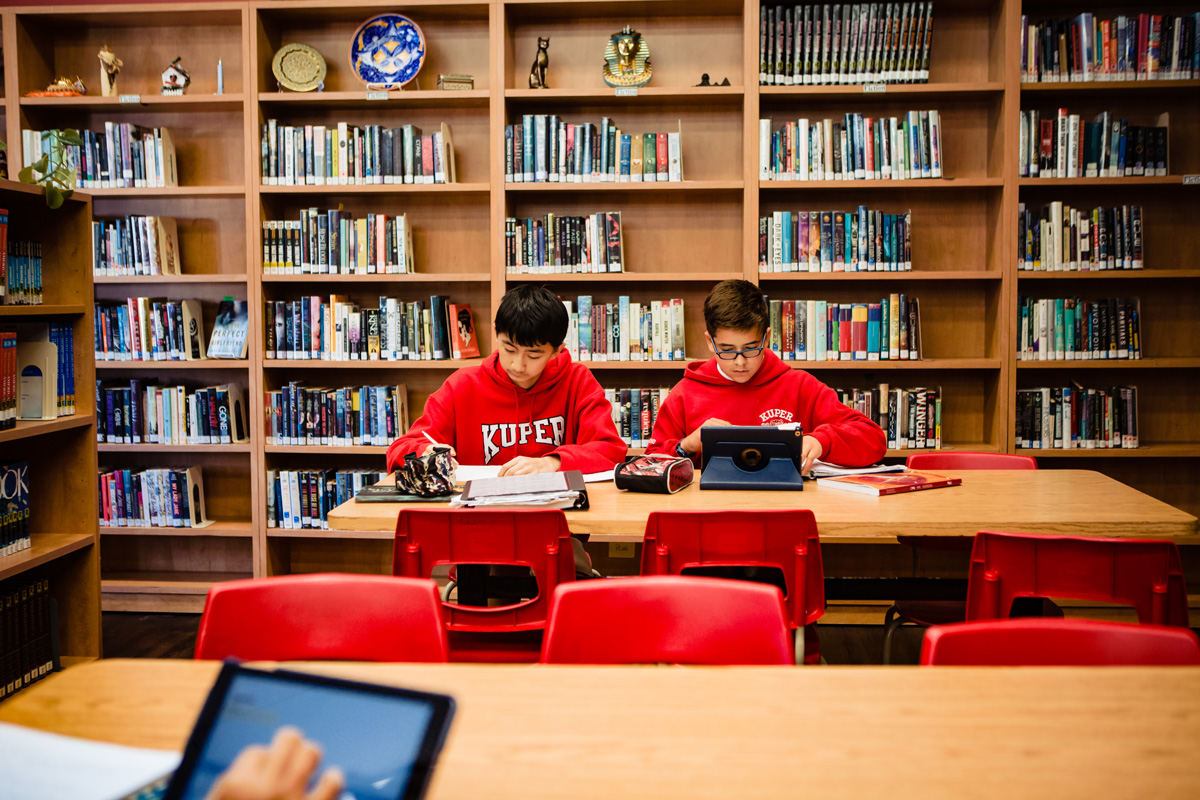 Magazines:
Dozens of subscriptions to both English and French magazines
Electronic Databases:
Elibrary/Proquest (full English database with over 2000 full-text magazines, periodicals, and newspapers)
Photocopier:
High school students have accees to a pay-per-use photocopier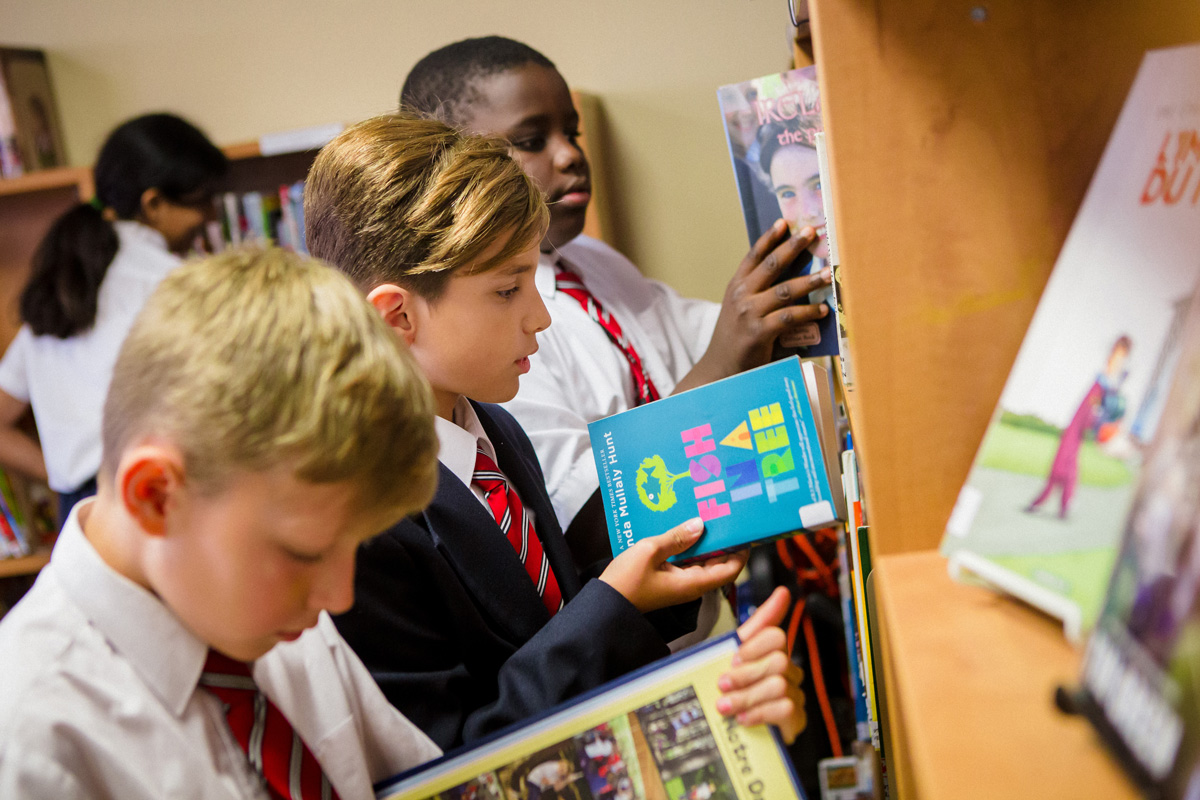 Kuper Database Link & Description
ERIC:
Education resource information centre incudes over 1.1 million citations back to 1966.

HISTORICA:
Canadian history incuding the Canadian Encyclopedia online and black history Canada.
https://www.histori.ca

ITools:
Useful collection of reference material including full-text dictionaries, thesuari, biographies, maps, etc.

Modern World History Online:
https://online.infobaselearning.com

Ancient and Medieval History Online:
https://online.infobaselearning.com/
Operating Hours
The Elementary Library is open between 7:30AM - 3:30PM Monday to Friday.
For more information, please email This email address is being protected from spambots. You need JavaScript enabled to view it. or call 514-426-3007, ext. 329
The High School Library is open between 8:30AM - 4:30PM Monday to Friday.
For more information, please email This email address is being protected from spambots. You need JavaScript enabled to view it. please call 514-426-3007, ext. 234
Kuper Klubs and Groups 2019-2020
Group
Who to talk to?
Location / Times
Auto Club
Mr. Dixon
Please see Mr. Dixon for details.
Aviation
Mr. Pearce
Simulator in Mr. Pearce's office / Various Fly Days during the Year
Book Club
Ms. Cichanowicz
Please see Ms. Cichanowicz for details.
Bullet Journalling (planning and organization skills)
Ms. Cichanowicz
Please see Ms. Cichanowicz for details.
Chess
Mr. Welik
Day 1 & 3 in room 204 (2nd lunch)
ComicCon
Mr. L. Harris
Day 3 Second Lunch in Room 106, Day 5 First Lunch in Room 102
Concerts
Ms. Wissenz
Please see Ms. Wissenz for details.
DJ Club
Mr. Tedford
Please see Mr. Tedford for details.
Duke of Edinburgh Award
Ms. Cichanowicz
Please see Ms. Cichanowicz for details.
Encounters with Canada
Mr. L. Harris
Please see Mr. L. Harris for details.
Engineering
Mr. Louvaris
After school, various days; check room 006
English Tutorials
Ms. Wakeling
Day 4 Senior Lunch in room 106
Foosball Tournament
TBA
TBA
Glee
Ms. Wissenz
Please see Ms. Wissenz for details.
Grad Committee
Mr. J. Harris
Please see Mr. J. Harris for details.
Green Team
Ms. Hawkins
Tuesdays 3:30-4:30 in room 104
GSA
Mr. Rother
Please see Mr. Rother for details.
Holiday Door Competition (Halloween and Christmas)
Ms. Owen
TBA
Homework Helpers
Mr. Pearce
Please see Mr. Pearce for details.
Improvisation en français
Mme Duclos
Please see Mme Duclos for details.
Kuper Actor's Guild
Ms. Shiller
Please see Ms. Shiller for details.
Kurling 4 Kids
Mr. Rother
Please see Mr. Rother for details.
Kurrently Kuper
Lorna Johnston
Library during lunches
Latin Rythms Dance Class
Sra. Rodriguez
Please see Sra. Rodriguez for details.
Leukemia and Lymphoma Group
Mr. Pearce
Meetings as required in Mr. Pearce's office
Major Fundraiser Committee
Mr. L. Harris
Please see Mr. L. Harris for details.
Math Club (Lunchtime)
Mr. Louvaris, Mr. Moniodis
Please see Mr. Louvaris, Mr. Moniodis for details.
Math Tutorials (After school)
Various
Schedule is posted on the door of room 103
Multicultural Day
Ms.Vir
Please see Ms.Vir for details.
One Book at a Time
Mr. Carter
Please see Mr. Carter for details.
Operation Veteran
Mr. Franzese
Please see Mr. Franzese for details.
Roadies
Mr. Pearce
Please see Mr. Pearce for details.
Rock Band
Mr. Weiss
Please see Mr. Weiss for details.
Science Fair Support Club
Mr. Phillips
Please see Mr. Phillips for details.
Senior Science Tutorials
Mr. Harris or Ms. Moore
Day 1, Second Lunch with Ms. Moore, Room 017.
Day 5, Second Lunch with Mr. Harris, Room 022.
Service Trip
Ms. Cichanowicz
Please see Ms. Cichanowicz for details.
Sewing
Mrs. Da Silva
Please see Mrs. Da Silva for details.
SOS
Mr. Dixon
Please see Mr. Dixon for details.
Staff v Student Soccer Matches
M. Khalifa
Kuper Turf-When? Listen for announcements
Student Council
Mme Leneveu
Please see Mme Leneveu for details.
Table Tennis Tournament
M. Khalifa
Please see M. Khalifa for details.
Tech Team
Mr. Tedford
Please see Mr. Tedford for details.
Variety Show
Ms. Owen
Please see Ms. Owen for details.
Visual Arts Clubs (Junior & Senoir)
Ms. Nguyen, Ms. Cohen & Ms. Day
Junior Art Club: Lunch on Day 3s
Senior Art Club: Lunch on Day 6s. Both are in the Art Room (#219)
We Club
Ms. Wakeling
Day 6 Senior Lunch in room 106
Weight Training / Fitness Room
Mr. Adamson
Lunches and after school in the Fitness Room
Yoga
Ms. Brothers
Sign up outside 209
Film Club
Mr. Pearce
Sign up outside 210